Address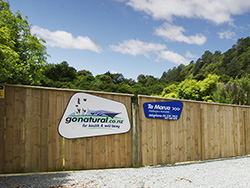 The Wellington Naturist club grounds, "Te Marua", are located just off State Highway 2 (SH 2) at 20 Molloys Road, Te Marua. It takes just over half an hour to drive from Wellington, the capital city of New Zealand.
The nearest dairy (convenience store) is an easy walk from the club, on the corner of Plateau Road and SH2. There is fuel and a liquor store about 3.5km (2 miles) further south on SH2. The nearest supermarket is in Upper Hutt. There are also a number of local and regional attractions in the vacinity of the club.
Directions are available for navigating to the club.
GPS coordinates
041° 05' 33.61 S
175° 07' 59.41 E